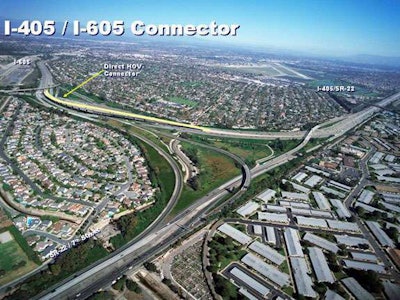 Federal Highway Administrator Victor Mendez joined state and local officials this week to kick off construction on the $400 million West County Connectors project today near Garden Grove, Calif. The new interchange, which relies on $50 million in funds from the American Recovery and Reinvestment Act, will include additional HOV lanes, improve safety and reduce congestion.
As a gateway for traffic between Los Angeles and southern California, the State Route 22 interchange with Interstates 405 and 605 is one of the busiest in the nation. More than 327,000 drivers pass through it each day, causing substantial traffic congestion and significant wait times. By adding a second HOV lane in both directions on I-405, the project will reduce traffic congestion and highway noise, and improve local air quality.
When completed in 2014, the connector will improve safety for the thousands of motorists who rely on SR22, I-405 and I-605 each day. Currently, carpool users must cross multiple general-purpose lanes to get from SR 22 to I-405 and to the I-605, which results in significant weaving – posing risks to all who use these routes.
The West County Connectors project, the second phase of the region's SR22 HOV project, consists of two segments – an east segment near Valley View Street and a west segment near Seal Beach Boulevard.
"This project exemplifies a great use of Recovery funds – it creates jobs, increases safety, reduces congestion and connects communities here in Southern California," Mendez says.
Of the $26.6 billion in FHWA ARRA funds available nationwide, California's share is $2.57 billion. To date, $2.47 billion has been obligated for projects in the state toward 931 roads and bridges projects, with 437 under way and 122 completed.