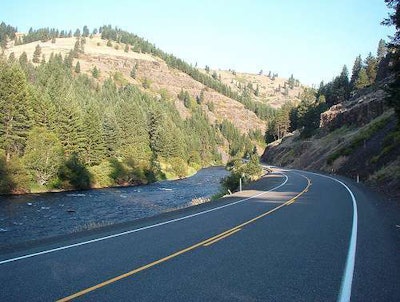 The U.S. Department of Transportation is making $3.2 million in quick release emergency funds immediately available to the U.S. Forest Service to repair Wallowa Mountain Loop Road in eastern Oregon, which was damaged by flooding in early June. The road experienced numerous severe washouts, including one 500-foot section that was completely washed away.
"The flooding in Oregon has severely disrupted transportation," U.S. Transportation Secretary Ray LaHood said. "Emergency relief will allow repairs to take place more quickly and restore a sense of normalcy to communities in the area."
The Federal Highway Administration, USFS, the Oregon Department of Transportation and Oregon local agencies together identified 10 sites along the Wallowa Mountain Loop Road that will have the highest priority for repairs that must be completed by Nov. 1 because of weather constraints.
FHWA will assist the state in reopening a part of the Hells Canyon Scenic Byway, a popular summer route between Halfway and Joseph, as soon as possible. "We are making these emergency funds available quickly because it is a critical time to help repair the damage caused by the flooding and prevent more adverse economic impacts," Federal Highway Administrator Victor Mendez said.
FHWA's emergency relief for federally owned roads program provides funds for the repair or reconstruction of federal roads and bridges damaged by natural disasters or catastrophic events.