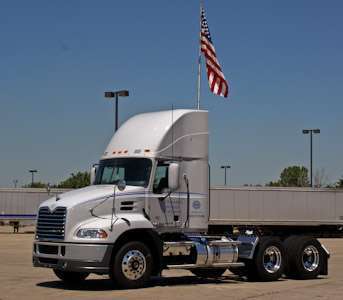 Mack Truck Inc. on Monday, July 12, announced that Chrysler Group Transport has ordered 325 Mack Pinnacle Model DayCab highway tractors equipped with Mack MP series engines and ClearTech selective catalytic reduction technology. The order effectively replaces Chrysler's previous fleet operating in the United States and Canada.
"These Mack trucks save our customers money because they use less fuel and require less maintenance, and in meeting EPA 2010 regulations, they also deliver near-zero emissions," says David Barletta, Mack central region vice president. "We worked closely with Chrysler to design a complete ownership package that includes Mack service support, parts support, financing, technical training and more."
Chrysler Group Transport uses its Class 8 fleet to deliver parts to auto assembly plants and parts distribution centers. The first of the new Mack Pinnacle DayCabs already have arrived at the company's Detroit terminal. All 325 are expected to be in service by the end of November.
"When we decided to refresh our entire fleet, quality, ease of maintenance and fuel economy topped our list of requirements," says Jean-Paul "JP" Barrette, head of Chrysler Group Transport Inc. "We are very pleased with the partnership we have developed with Mack and look forward to the deployment of the entire fleet."