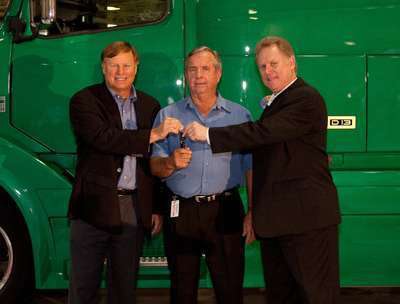 Production of the 300,000th Volvo Group 13-Liter heavy-duty diesel engine was celebrated Thursday, July 15, during an event in Hagerstown, Md., recognizing both the North American team that assembled it and the customer who will put it into service. Volvo 13-Liter engine production began in 2005 in Skövde, Sweden, and today the engines also are assembled in Curitiba, Brazil, as well as Hagerstown.
The 300,000th Volvo 13-Liter, a 500-hp D13 engine, recently was assembled at the Volvo Powertrain plant in Hagerstown and placed in a new Volvo VN780 chassis at Volvo Trucks' assembly plant in New River Valley, Va. The completed truck was delivered back to Hagerstown and presented to its new owner – Abilene Motor Express of Richmond, Va. – during the July 15 recognition event.
"We are happy and humbled to have assembled the 300,000th Volvo 13-Liter engine here in Hagerstown," says Carlos Hungria, senior vice president and chief operating officer for Volvo Powertrain. "This is a significant global occasion that solidifies the longevity and reliability of the engines powering Volvo Group products throughout the world. We're particularly pleased that our 300,000th is an EPA 2010-certified D13 engine that meets the most stringent emissions standards in the world."
Denny Slagle, president and chief executive officer of Volvo Trucks North America, says the milestone sends an important message to the industry about the size, stability and performance of Volvo Group. "As one of the world's largest producers of heavy-duty diesel engines, we've made the investments – both globally and here in Hagerstown – to ensure we remain on the leading edge of powertrain development and production," Slagle says.
During the July 15 ceremony, Slagle presented the milestone vehicle's keys to Abilene's president, Keith Jones, who has been operating Volvo vehicles since 1999. Abilene's Class 8 fleet includes 140 VN780s, with more than 50 EPA10 versions either already in service or soon to be so. "Once we switched to Volvo engines and discovered their durability and fuel efficiency, we never looked back," says Jones, who added that his drivers like the engine's performance and pulling power. "They are especially impressed with the Volvo engine and I-Shift combination."