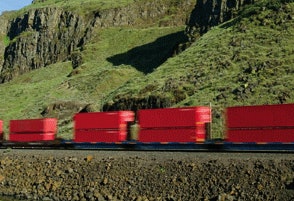 The Federal Motor Carrier Safety Administration has extended until June 30, 2011, its June 30 compliance date of its final rule concerning the inspection, repair and maintenance of intermodal equipment, specifically with respect to the requirement for drivers and motor carriers to prepare a driver-vehicle inspection report (DVIR) on an item of IME even if no damage, defects or deficiencies are discovered by, or reported to, the driver.
In a Federal Register notice posted today, Aug. 20, FMCSA said the extension will provide the agency with sufficient time to address, through a notice-and-comment rulemaking proceeding, an issue raised in a petition for rulemaking submitted on March 31 by the Ocean Carrier Equipment Management Association and the Institute of International Container Lessors. The requirements for intermodal equipment providers to have in place inspection, repair and maintenance programs, and a process for receiving and taking appropriate action in response to DVIRs on which damage, defects or deficiencies are reported, remain in effect.
The final rule, effective Dec. 29, 2009, made intermodal equipment providers subject to the Federal Motor Carrier Safety Regulations (FMCSRs) for the first time, and established shared safety responsibility among intermodal equipment providers, motor carriers and drivers. FMCSA said the new rule would enhance the safety of the nation's intermodal transportation system by improving maintenance, which would result in fewer breakdowns and crashes involving intermodal chassis and fewer chassis being placed out of service.
Each IEP that offers intermodal equipment for transportation in interstate commerce was to file an Intermodal Equipment Provider Identification Report (Form MCS-150C) by Dec. 17, 2009. By completing and submitting Form MCS-150C, the IEP took the first step toward complying with the FMCSRs. After FMCSA received the completed MCS-150C Form, the IEP would be assigned a U.S. Department of Transportation number that serves as a unique identifier when collecting and monitoring a company's safety information acquired during audits, compliance reviews, crash investigations and inspections. As an IEP, the company's safety information would be acquired through roadability reviews, crash investigations and inspections.
On March 31, OCEMA and IICL submitted a joint petition to FMCSA requesting the repeal of the provision of the FMCSRs that requires motor carriers to prepare and transmit a DVIR to the IEP at the time the IME is returned to the IEP even when no damage, defects or deficiencies are noted, referred to as a "no-defect DVIR." The petitioners contended that requiring the preparation and transmittal of these no-defect DVIRs imposes an undue burden on drivers, motor carriers, IEPs and intermodal facilities nationwide. The petitioners estimated that a no-defect DVIR requirement would necessitate the completion, transmission, review and retention of more than 38 million unnecessary reports annually, and argued that the added administrative burdens of the requirement to file no-defect DVIRs actually could undermine the goal of safe IME.
To view the notice, go to www.regulations.gov; the docket number is FMCSA-2005-23315.