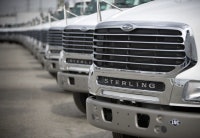 The Port of Long Beach's Clean Truck Program has been awarded the IANA Intermodal Achievement Award by the Intermodal Association of North America. The award recognizes the greatest contributions to the advancement of the intermodal freight transportation industry during the previous year.
IANA says the Clean Trucks Program has served as a model for seaports across the country by decreasing air pollution nearly 80 percent from drayage trucks serving the port. The trade group also commended the port for its leadership and development of a variety of port-related "green" initiatives.
The award presentation ceremony will take place during IANA's Intermodal Expo in Fort Lauderdale, Fla., on Nov. 15.