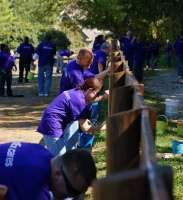 FedEx Corp. recently held its sixth annual FedEx Cares Week, providing volunteer and service opportunities for team members around the world. More than 4,000 FedEx volunteers worldwide donated their time and talents to serving local organizations dedicated to improving the quality of life in the communities where FedEx team members live and work.
FedEx Cares Week was held in more than 40 countries and territories from September 11-18 in the Asia-Pacific region and from Sept. 17-25 in the United States, Latin America and Europe. This includes 21 newly-participating countries and territories. FedEx team members across the globe served their communities in countries such as Australia, Belgium, Brazil, China, France, Korea, Mexico, Puerto Rico, the Philippines and the United Kingdom, and in more than 30 U.S. cities, including Atlanta, Boston, Chicago, Dallas, Denver, Houston, Indianapolis, Los Angeles, Memphis, Miami, New York, Newark, Pittsburgh, San Francisco, St. Paul/Minneapolis and Washington, D.C.
"FedEx Cares Week empowers FedEx team members around the world to serve together and make a difference in their own backyards," said says Butler, manager of global citizenship at FedEx. "The FedEx culture breeds a passion and commitment to the many communities in which we live and serve, and the program keeps growing, with 18 new countries and territories participating this year. FedEx Cares Week is just one way we join together to give back."
FedEx Cares Week serves as the formal kick-off for the annual U.S. FedEx United Way campaign. In addition to volunteering hundreds of thousands of hours each year, FedEx and its team members gave nearly $15 million to the United Way in 2009 and over $45 million over the past three years.