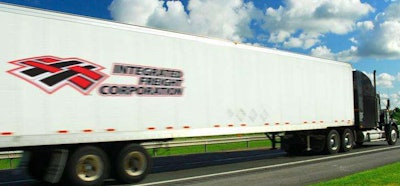 Integrated Freight Co. announced Thursday, Oct. 21, that it has executed a letter of intent to acquire Cross Creek Trucking Inc. of Medford, Ore. The LOI allows for 45 days of due diligence and a definitive agreement to be completed within that timeframe. The current proposed deal is for a combination of stock and a note from IFC; financial terms were not released.
Founded in 1989, Cross Creek Trucking is a family- and community-oriented company that operates a fleet of more than 115 trucks, 170 utility refrigerated trailers and 20 dry utility trailers providing service primarily to the West Coast of the United States. In 2009, Cross Creek had revenues of more than $28 million and EBITDA of $3.9 million.
"We feel the potential merger with IFC will add to our strength in customer service and increase our productivity and value proposition to our customers," says Mike DeSimone, president of Cross Creek.
Integrated Freight is a Sarasota, Fla.-based motor freight company providing long-haul, regional and local service. The company specializes in dry freight, refrigerated freight and hazmat truckload services, operating primarily in traffic lanes in the upper Midwest, Texas, California and the Atlantic seaboard. IFCR was formed for the purpose of acquiring and consolidating operating motor freight companies. The company completed its third acquisition in May and recently reported second-quarter revenues of $6.7 million.
"We are very excited about this business combination with Cross Creek," says Paul Henley, chief executive officer of Integrated Freight. "Their management team is very strong, and their overall business fits hand in glove with our current operations."