A Retrospective 1990 – 1999
The ninth in a series of quick peeks into the world of commercial vehicles through the lens of Commercial Carrier Journal
Surfin' CCJ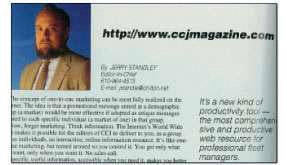 Eighty-five years after Commercial Carrier Journal first began providing useful business information for successful fleet directors and maintenance managers, the magazine in 1996 took its helpful advice and breaking news to the then-blossoming Internet for the first time with the arrival of www.CCJMagazine.com. "CCJ's site is the most comprehensive and productive Web resource for professional fleet managers and others interested in the motor carrier marketplace," wrote editor-in-chief Jerry Standley.
Logged into GPS
The Federal Highway Administration in 1998 announced a voluntary pilot program that would allow carriers to use GPS technology as an alternative to handwritten logs or automatic onboard recording devices (AOBRDs). In June, the agency and Werner Enterprises agreed to test such a system, and the carrier continued to operate the Werner Paperless Log System for years.

ICC put on ice
The ICC Termination Act of 1995, signed by President Clinton on Dec. 29, 1995, replaced the 108-year-old Interstate Commerce Commission – once one of the most feared and powerful government agencies – with the new Surface Transportation Board, an independent group under the U.S. Department of Transportation.

For all you do, this week's for you
In 1995, the trucking industry began celebrating National Truck Driver Appreciation Week. Companies and associations still host picnics, coffee breaks, safety banquets and more. One of the American Trucking Associations' slogans, "Safety Is our Driving Concern," is still used today among the driver population, as is the slogan "If you can't see me, I can't see you" to demonstrate blind spots surrounding tractor-trailer rigs. n
Visit www.CCJ100.com for an in-depth timeline detailing news and events in the trucking industry from this decade and share your company's history.