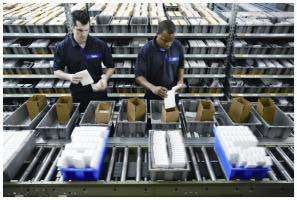 FedEx SupplyChain, a subsidiary of FedEx Corp. and an integrated logistics provider, has rolled out new and expanded visibility and control features as well as new stocking locations to support worldwide FedEx Critical Inventory Logistics customers with high-value critical orders.
With recent expansions, FedEx has added more than 100 new stocking locations worldwide to the FedEx Critical Inventory Logistics network – with the largest network expansions taking place within India and Mexico. FedEx says it has made these investments to assure customers that that they will have stocking locations available where and when they are needed to support their business growth worldwide.
In addition to event management, more customers will have access to trained staff member, on-duty around-the-clock through the FedEx Critical Inventory Logistics global command and control team.
"As critical inventory supply chains continue to require increasingly complex global solutions, we continue to invest in technology and new services to stay in front of our customers' needs and exceed their expectations," says Craig Simon, president and chief executive officer of FedEx SupplyChain.
The FedEx Critical Inventory Logistics technology enhancements also include added ways for customers to place orders. In addition to existing order placement methods –electronic data interchange, phone and e-mail– customers also have the option to place orders on the Web by uploading a file or by using the FedEx Critical Inventory Logistics global customer Web portal.