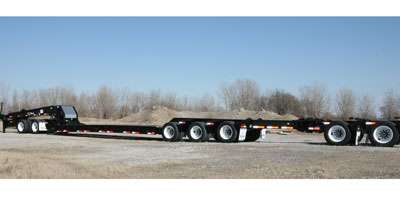 Talbert's 2+3+2 65-ton HRG East Coast Trailer includes a flip extension to accommodate a tandem-axle jeep dolly, permitting it for use in all states at full rating. Designed for flexibility and versatility, the hydraulic gooseneck trailer is suited for a variety of markets, including general construction, heavy-haul trucking and oilfields.
The trailer is designed with the ability to add a tag- or pin-on axle to the jeep to allow a 3+3+2 axle configuration; operators can access the optional pin-on axle for the jeep to maintain axles that are legal to scale the payload. Featuring 60-inch axle spacing as well as an airlift on axle 3 and a chain lift on axles 1, 2, 4 and 5, the trailer is capable of running with three, four or five axles in a row without the booster and can be equipped with an optional Cleral onboard scale system.
Offering a 28-foot deck length, the trailer is rated for 65 tons in any 14-foot deck length and is adaptable to accommodate an additional 10-foot section of deck, varying in type from beam to drop side. The loaded deck height is 22 inches, and the trailer features an 8-foot 6-inch deck width.
It is engineered with heavy-duty T-1 100,000-PSI minimum yield steel construction, upper-flange reinforcement on the deck and auxiliary crossmembers for extra support. Standard features include an air-ride suspension and connections for a power take-off system; options include an onboard power pack to operate its trailer hydraulic system, removable fenders over the tires and polished aluminum wheels.