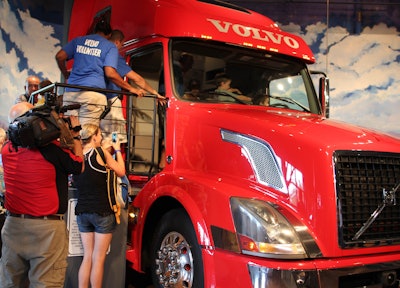 Volvo Trucks has partnered with the Greensboro (N.C.) Children's Museum to open a new permanent exhibit featuring a Volvo VNL 670. The interactive display allows children to get behind the wheel and explore all aspects of the truck and its sleeper cab as they learn the importance of trucks in society. Greensboro is home to Volvo Trucks' North American headquarters.
"The new truck exhibit provides a fun environment for children to learn about the integral role trucks play in sustaining the quality of life in our communities," said Ron Huibers, president, Volvo Trucks North American sales and marketing. "Greensboro is home to Volvo Trucks, and we're proud to have a place where our employees can take their children to learn about the industry we serve."
Volvo said the VNL 670 model, housed in the museum's transportation area, also provides an active and imaginative setting to learn about the company's focus on safety and environmental care. In addition to showcasing facts on each of those values, the exhibit is designed to teach children how to safely cross the street in front of stopped vehicles and buckle three-point safety belts.