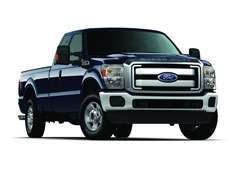 Roush CleanTech announced that with its recent approval from the California Air Resources Board, customers can retrofit their existing 2010 Ford E-series vans to run on its propane autogas fuel system. The company says it is pursuing CARB certifications for 2009, 2011 and 2012 model years to provide even more options.
Roush CleanTech also announced it now is accepting orders for the 2012 U.S. Environmental Protection Agency- and CARB-certified Ford F-250/F-350 in-bed tank configuration. The company says it reached out to customers during the design phase of development and listened to their feedback to learn what tank capacities are most popular and needed in the marketplace.
Roush CleanTech says it settled on a propane fuel tank that provides a capacity of 38 usable gallons and works with standard service body applications like those manufactured by Knapheide. The company says it also made sure the tank, which sits against the front of the bed, doesn't exceed the truck's bed height.