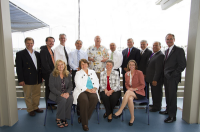 The ports of Long Beach and Los Angeles recognized six companies – SA Recycling, APL, Harley Marine Services, Pacific Harbor Line, BP and Matson Navigation Co. – with Clean Air Action Plan Air Quality Awards for exemplary efforts to reduce air pollution from their local maritime and goods-movement operations.
"We're delighted to honor these companies for taking the time and effort to successfully reduce their environmental impacts through leadership and quick action," said J. Christopher Lytle, Port of Long Beach executive director. "The companies operating at the two ports are working hard to be good neighbors by taking extra steps to improve air quality in the Harbor Area and Southern California. These truly are industry leaders."
"We continue to see significant year-over-year pollution reductions at the port complex, thanks in large part to our industry partners," said Geraldine Knatz, Port of Los Angeles executive director. "Beyond the commitment and investments made by the companies being honored in this year's Air Quality awards, we applaud their efforts to innovate and take their operations to higher standards of efficiency and sustainability."
Now in their fifth year, the annual Air Quality Awards began shortly after the Ports of Los Angeles and Long Beach approved the San Pedro Bay Ports Clean Air Action Plan in 2006. Port tenants and other organizations that serve the ports are eligible to be nominated. The judging panel includes port staff, as well as representatives from the South Coast Air Quality Management District, California Air Resources Board and the U.S. Environmental Protection Agency.