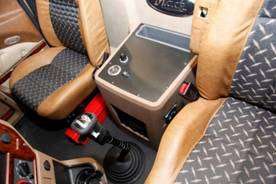 Mack Trucks on Thursday, Aug. 23, launched new interior upgrades to its Mack Granite and Titan by Mack models. The upgrades, designed to offer drivers a more comfortable and ergonomic environment in which to work, include:
• An optional center storage console located between the seats, providing nearly one cubic foot of space for large-item storage. The console includes interior lighting and a 12V power supply;
• An optional bodybuilder console mounted between the driver and passenger seats. The console works with Mack BodyLink III electrical interface and provides a 150 square-inch top plate that is removed for bodybuilder control and wiring installation and includes an integral dispatch box, trash bag hooks and netted storage;
• Optional ambient red floor lighting, subtle or indirect, for use at night when driving or when stationary;
• A standard "dead pedal" for the driver's left foot to maximize comfort while driving and to help the driver maintain an ergonomically correct seating position;
• Improved functionality for Mack PowerLeash+ Engine Brake controls, standard on all models, designed to allow the driver to set and maintain a target downhill braking engagement speed, in or out of cruise control; and
• Self-cancelling turn signals, which are standard on trucks and optional on tractors.
"Comfort is key to driver retention," said Curtis Dorwart, Mack vocational marketing product manager. "Knowing this, Mack designed and engineered new interior enhancements to the Granite and Titan models to allow drivers to work in a comfortable cab environment, resulting in improved driver productivity and safety."