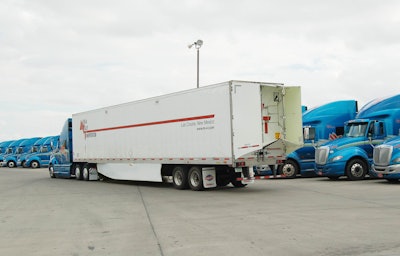 ATDynamics, a supplier of tractor-trailer rear-drag aerodynamics technology, announced at the Great American Trucking Show in Dallas on Friday, Aug. 24, that orders for its TrailerTail line of aerodynamic trailer fairings have exceeded 12,000 units to date, and that more than 100 trucking fleets now operate TrailerTail technology across the United States.
ATDynamics says new orders for TrailerTails have surged by more than 500 percent in the first half of 2012 as compared to the same period in 2011. "Fleets with TrailerTails are highly visible on U.S. highways – one in every 200 high-mileage trailers is now equipped with ATDynamics' patented TrailerTail technology," said Andrew Smith, chief executive officer of ATDynamics. "Fleets pulling trailers with tails are earning three cents more for every highway mile traveled than their competitors, which is why we are seeing the rapid surge in adoption. Trailers with tails are the new normal for truckload carriers."
ATDynamics predicts that in 3-5 years, the majority of over-the-road semi-trailers will be equipped with aerodynamic tail technology. "Fleets without aerodynamic trailers are simply becoming less competitive," said Smith.
The adoption of TrailerTail technology has accelerated as trucking companies follow the lead of fleets such as Mesilla Valley Transportation of Las Cruces, N.M.; Robert Heath Trucking of Lubbock, Texas; Nussbaum Transportation of Normal, Ill.; JNJ Express of Memphis, Tenn.; and Spirit Truck Lines of San Juan, Texas. Each of these fleets independently verified the fuel savings of TrailerTail equipment and quickly implemented initiatives for fleet wide adoption ATDynamics said.
ATDynamics reports that the reason that some trucking fleets have adopted aerodynamic trailer technology much faster than their competition relates to the compensation policies for maintenance departments. Fleets with maintenance departments that are not rewarded for improving fleet fuel economy are slow to test and deploy critical technologies compared to fleets with fuel economy targets.
To facilitate trucking fleet adoption of TrailerTail technology, ATDynamics has put in place a risk-free pilot program, which allows fleets to test up to 200 TrailerTails with no financial obligation. The company also has partnered with equipment financing firms Madison Capital and Teck Financing to offer financing programs for qualifying fleets. According to ATDynamics, with monthly fuel savings from TrailerTail technology exceeding monthly financing payments, its financing programs have allowed fleetwide TrailerTail initiatives to be cash flow-positive from the start.