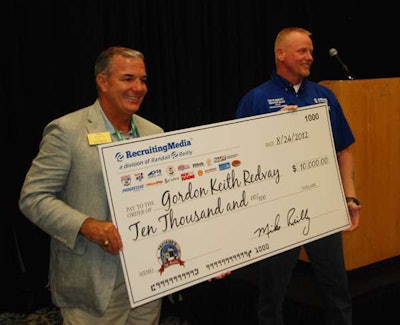 Gordon Keith Redvay, a driver for Crete Carrier, was named Trucking's Top Rookie by Randall-Reilly Business Media and Information, in conjunction with several supporting sponsors, at The Great American Trucking Show in Dallas, Texas, on Friday Aug. 24.
Brad Bentley, editorial director of Recruiting Media Group, led the presentation in which he introduced the 10 finalists selected from a pool of 29 nominees.
Also present was Cheryl Hanley, chairman of Commercial Vehicle Training Association, who told the finalists that "everyone in this room realizes how important trucking is to this country" and thanked the drivers present for their work in the industry.
Bentley said a panel of judges connected to the trucking industry considered selection criteria such as availability for loads, on-time delivery, highway safety performance, customer relations, work record and nonjob-related activity.
The 10 finalists (including the driving school they attended and their current company) were:
• Scott Curry: Las Vegas, Nev.; American Institute of Technology; Werner Enterprises
• Annette Dellinger: Peralta, N.M.; C.R. England Premier Truck Driving School; C.R. England
• Michael Gartner, Machesney Park, Ill.; Rock Valley College; Roehl Transport Inc.
• Roberto Jaimes, Orlando, Fla.; Roadmaster Drivers School; Werner Enterprises
• Andrew Lee: Knoxville, Tenn.; Tennessee Truck Driving School; TMC Transportation
• James Perdue: Indianapolis; Roadmaster Drivers School; Roehl Transport Inc.
• Gordon Keith Redvay: Franklin, Ind.; Roadmaster Drivers School; Crete Carrier
• Mike Samra, Manchester, Mo.: C.R. England Premier Truck Driving School; Schneider National
• Paul Webb, Columbia, S.C., The Sage Corp., Epes Transport System Inc.
• Jerry Wolff, Cohutta, Ga.: Great Southern Driving Academy; TMC Transportation
Speaking on behalf of American Trucking Associations' America's Road Team, David Boyer of Wytheville, Va., a driver for ABF Freight System, and Randy Briggs of West Valley City, Utah, a driver for YRC, offered words of support, congratulations and advice to the finalists. "You get my standing ovation, each and every one of you," Boyer said. "We've all got to share the highway. … If you look at it that way, you'll have a long and safe career."
The finalists received cash prizes of $1,000 each, as well as several products and certificates from many of the program's sponsors.
Mike Reilly, chief executive officer of Randall-Reilly, addressed all of the finalists, saying, "We have a vested interest in your success. If you're not successful, we're not successful. … Know that you have a whole room full of people who are thinking about you, praying for you."
Reilly presented Redvay with a check in the amount of $10,000. "I would like to thank everybody sitting here, first of all," Redvay said. "For an old retired sergeant from the Army to be considered a rookie again" is quite a task, he said.