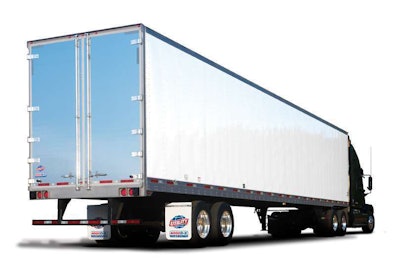 At the Great American Trucking Show on Thursday, Aug. 23, Utility Trailer Manufacturing Co. announced two new high-strength steel options available for the 4000D-X Composite dry van in the fourth quarter.
The high-strength steel side-panel option, presently available for the DX-100 only, is an alternative to the standard .04-inch aluminum side skin, providing a means of countering fluctuations in the price of aluminum, according to the company. Using the same exterior side skin material found on plate trailers, this new option features .016-inch high-tensile 80,000-psi prepainted white galvanized steel panels for the full length of the trailer, including the front wall.
In addition, a new sidewall system will be available for both the optional DX-100 and the standard DX-101 featuring 18-gauge 100-ksi galvanized steel sidewall posts in the bay area to offer weight savings for increased payload capacity.
"When combined, this unique pairing reduces weight while adding to the bottom line, making it a winning combination." said Craig Bennett, Utility senior vice president of sales and marketing.
In other news, the company announced the:
• The expansion of its reefer manufacturing plant in Marion, Va., and its dry van manufacturing plant in Paragould, Ark.; and
• Larry Roland's appointment as director of marketing.