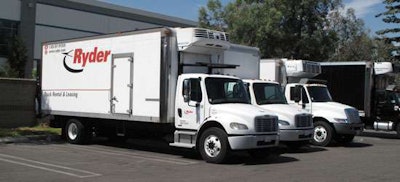 Ryder System announced the opening of its new Ryder Vehicle Sales center, offering used trucks for sale in the Greater Vancouver Area. The facility, the first Ryder Vehicle Sales location in British Columbia, is situated along the 57 Trans-Canada Highway and near Ryder's full-service maintenance facility on 190th street.
"The Surrey facility enables Ryder to better serve our valued BC customers and accommodate the increasing demand for quality used vehicles in the Greater Vancouver area," said Michael Cagney, director of asset management for Ryder. "With this new location, we can conveniently provide businesses with affordable professionally-maintained used vehicles to support their needs."
Ryder's used vehicle inventory includes commercial and heavy-duty vehicles, including tractors, trailers, straight trucks, panel and cube vans, refrigerated trucks and stake trucks. Each vehicle is certified and comes with a 30-day warranty and complete vehicle maintenance history. To view Ryder's Canada inventory, go to www.ryderusedtrucks.ca; in the United States, go to www.usedtrucks.ryder.com.