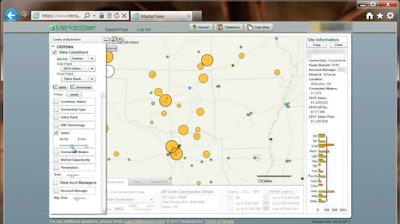 TerraSeer, a provider of web-based geospatial visualization applications, has launched Aftermarket Analytics, a consulting and technology development organization designed to help automotive aftermarket companies improve category management and supply chain efficiency.
Aftermarket Analytics works with parts manufacturers and distributors to develop cost-effective customizable projects. Analysis and recommendations are presented geographically via a Web portal, which allows clients and their channel partners to identify patterns and opportunities in data with greater ease than traditional spreadsheets and narrative reports.
According to Justin Holman, chief executive officer of Aftermarket Analytics, the decision to introduce the new business and Website, www.aftermarketanalytics.com, resulted from accumulated vertical experience in the automotive aftermarket. TerraSeer says it has helped a number of industry players better understand the opportunities, demands and risks associated with their product offerings.
The company hopes its new subsidiary will further its goal of bringing the power of geospatial analysis and visualization to aftermarket manufacturers and distributors throughout North America. "The launch of Aftermarket Analytics is an expression of the successful client relationships we've established in the aftermarket and represents our ongoing commitment to provide robust Web-based analytical solutions to parts manufacturers and channel partners who struggle with parts proliferation and excess inventory," says Holman.
Parts manufacturers and distributors can set up a free consultation at www.aftermarketanalytics.com. The new Website details the company's service offerings, including replacement rate modeling, demand and sales forecasting and inventory optimization. It also features a company profile, company news and contact information.