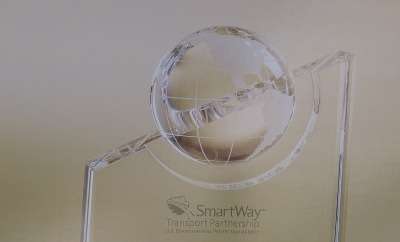 At this week's 2012 American Trucking Associations' Management Conference & Exhibition in Las Vegas, Nev., ATA leaders offered their congratulations to the winners of the U.S. Environmental Protection Agency's SmartWay Excellence Awards.
"SmartWay is a shining example of what can happen when government engages the private sector to achieve a goal," said Bill Graves, ATA president and chief executive officer. "Just as we should congratulate these member companies for their commitment to environmental sustainability, we should recognize EPA's commitment to helping them become more efficient as they deliver America's most essential goods."
Companies receiving SmartWay Excellence Awards include C.R. England Inc., J.B. Hunt Transport Inc., Schneider National Inc., White Arrow, Air Ground Express Inc., Celadon Trucking Services Inc., Dart Transit Co., Doug Andrus Distributing, Duncan and Son Lines Inc., Dupre Logistics, FedEx Ground Package System Inc., Frito-Lay, Heartland Express Inc., JBS Carriers Inc., Jules Savard Inc., Knight Transportation Inc., Lake Enterprises Ltd., Lone Star Transportation, May Trucking Co., Mesilla Valley Transportation, New Century Transportation Inc., Orlicks Inc, Pacific 9 Transportation Inc., Palletized Trucking Inc., Poland Spring Bottling, Polaris Transport Carriers Inc., Prime Inc., Ruan Transportation Management Systems, Southern Refrigerated Transport Inc., Swift Transportation and Walgreen OshKosh Inc.
"These companies know that the benefits of SmartWay are not just a sticker on the cab or a slogan on the letterhead, but they include real bottom-line savings," said Dan England, outgoing ATA chairman and chairman of Salt Lake City-based C.R. England, one of the companies honored. "I know this for a fact because I've seen the benefits firsthand. They've earned these awards, but more importantly, they've shown us what our industry can do to improve our environment."