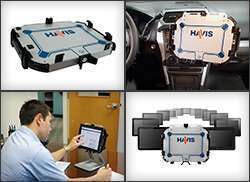 To complement its growing line of tablet docking stations and cradles, Havis Inc. announced the launch of its new Universal Tablet Mount. The mount is compatible with most 10-inch tablets from a wide variety of manufacturers, including Acer, Apple, Asus, Dell, Lenovo, Motorola, Panasonic, Samsung, and Toshiba.
Havis' Universal Tablet Mount is adjustable to accommodate and secure most 10-inch tablets with or without their protective cases and skins, depending on the tablet model. Additionally, the tray's mounting base fits the universal VESA 75mm hole pattern and is compatible with a number of available mounts.
The tablet tray features a thin profile and overall smaller footprint to maximize space within a vehicle or office setting. The tray has an easy-to-use latch handle and barrel lock that work together to securely mount the tablet and prevent it from becoming a projectile in a crash. The locking mechanism also provides the user with theft deterrence.
Havis says the rugged Universal Tablet Mount was tested to withstand in-vehicle crash simulations and is compliant with RoHS (Restriction of Use of Hazardous Substances) regulations.
For more information the Havis Universal Tablet Mount, visit http://www.havis.com/universal-tablet-mount.