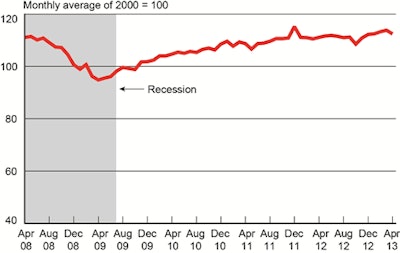 The amount of freight carried by the for-hire trucking industry fell in April from March, according to data released this week by the U.S. Department of Transportation's Bureau of Transportation Statistics, which measures freight shipments each month with the Freight Transportation Services Index. The drop comes after five consecutive months of increases.
According to the BTS numbers, shipments in April dropped 1.2 percent from the previous month, but up 1.2 percent from April 2012. The April 2013 Transportation Services Index read 112.4, representing an 18.5 percent increase from April 2009's low in the Great Recession.
That number is 2.4 percent lower than December 2011's all-time high of 115.2.
The index measures month-to-month changes in freight shipments measured in tons and ton-miles, which combine to form the index.
Among all modes of transportation, trucking was the only stable one, as water, pipeline shipments and rail intermodel saw declines. BTS says that although April saw a drop, the index has consistently remained above the 2012 range for four months in a row.