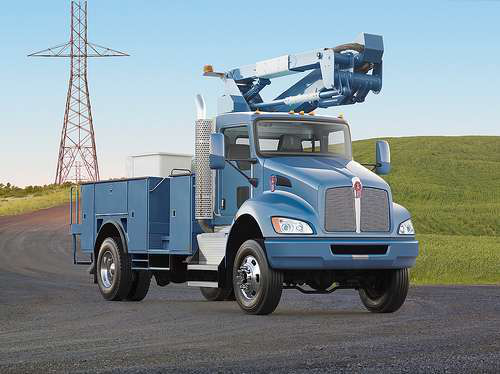 The Kenworth T270 and T370 medium duty models equipped with factory-installed, front drive axles are now available for order with the Hendrickson PRIMAAX EX rear air suspension.
"To help customers meet their requirements in demanding vocational applications, Kenworth continues to expand its suspension offering with quality products," said Doug Powell, Kenworth medium duty marketing manager. "Kenworth's T270 and T370 4×4, front drive axle trucks – specified with a Hendrickson PRIMAAX EX suspension – offer excellent performance and low life-cycle cost for vocational operators who prefer running medium duty trucks to get the job done."
Kenworth says the Hendrickson PRIMAAX EX suspension is ideal for vocational and severe duty applications. Key features include higher roll stiffness; reduced roll steer coefficient; increased lift capacity; no-lube, heavy duty bushings for reduced maintenance; and redesigned U-beam assembly, air spring, torque rod bracket and frame bracket for increased robustness and durability.
The suspension, which has a 15.5-inch ride height, is available with the Kenworth T270 and T370 4×4 straight trucks in ratings of 23,000 lbs. and 26,000 lbs. with a single rear axle.