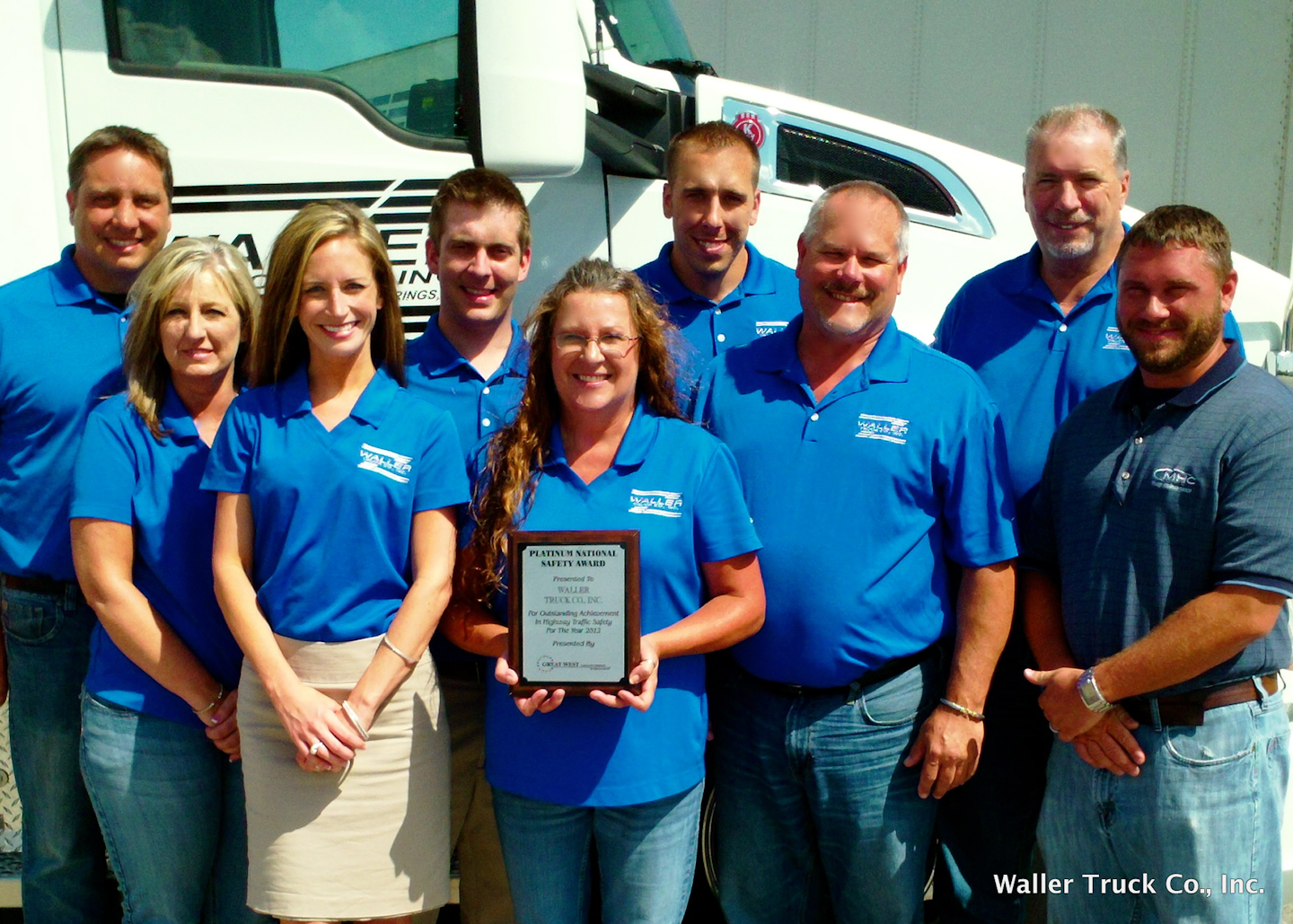 Waller Truck Co., Inc. was presented a Platinum award by Great West Casualty Company as part of the 2012 National Safety Awards Program. This is the 3rd consecutive year that Waller Truck Co., Inc. has been named a Platinum award recipient. Waller Truck Co., Inc. is a seven-time recipient of the Gold safety award.
The National Safety Awards program recognizes carriers in similar operations (truckload and less than truckload) with awards based on their year-end preventable accident results. Carriers are eligible to receive a Platinum, Gold, Silver, or Participatory award. This past year, the program drew more than 750 participants from across the country.
"Waller Truck Co., Inc. takes great pride in being recognized again this year by Great West for excellence in safety," said Tim Crowley, director of safety at Waller Truck Co., Inc. "Our safety scores reflect the day-to-day efforts of our drivers, safety department and staff to not only comply with regulations, but set an even higher standard for ourselves. Safety is our top priority."
CCJ has covered some of the technologies that Waller Truck Co. is using to drive improvements in safety and compliance. In 2010, for instance, the company purchased a new driver management system from EBE Technologies. The Excelsior Springs, Mo.-based truckload carrier previously had been using various applications for managing recruiting, driver files, logbooks and vehicle/engine data. The company has since been managing everything related to CSA from a single automated platform.
Waller Truck uses the CSA dashboard in its EBE driver management software that includes the SMS data provided by FMCSA and also brings in real-time information from the fleet's Omnitracs MCP 110 onboard computers and various other sources to give a snapshot of individual driver performance.
The company also uses EBE's Driver Portal, an online driver-facing application, to capture information from drivers such as roadside inspections and violations. Waller Truck uses the Driver Portal to show drivers their own CSA scorecard along with other information such as an expiring commercial driver's license or medical card, or any scheduled training.
Waller Truck uses its management software to tie interventions to real-time alerts such as a hard-braking incident. The EBE system uses workflow to assign driver managers with a task, such as to contact the driver either through an in-cab message or a phone call. The workflow also will send the driver a form with the violation listed. The driver then will be able to use the Driver Portal to sign the form electronically and acknowledge that the incident occurred. The system then will send an alert if the process is not completed on time.