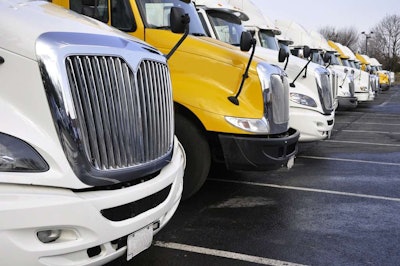 The number of fleet executives who say they plan to place orders for Class 8 trucks in the third quarter was up to 65 percent in the 3Q 2013 Fleet Sentiment survey conducted late last month by CK Commercial Vehicle Research.
Just 53 percent of survey respondents indicated in the second quarter that they intended to place orders for Class 8 trucks.
The respondents that said they intended to place class 8 orders in the quarter estimated they'd be replacing about 6.1 percent of their truck inventory — down from the second quarter but up a from last year's third quarter, in which respondents who intended to place orders said they only intended to replace 1.4 percent of their inventory.
Moreover, a higher percentage of fleet execs said they needed more equipment because of freight demand, as opposed to vehicle age. Survey respondents did say the average age of their Class 8 trucks was 5.2 years, and the average age of their trailers is 8.9 years.
The survey responses included responses from small, medium and large for-hire fleets, private fleets and government fleets about their equipment and their purchasing plans.
The full report is available on CK Commercial Vehicle Research's website.