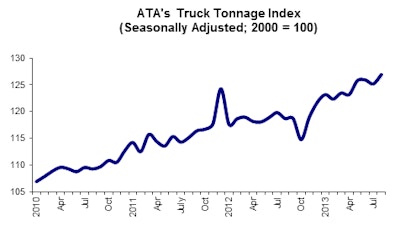 The For-Hire Truck Tonnage Index in August showed a strong year-over-year surge of 6.9 percent — the largest year-over-year gain since December 2011 — and a strong 1.4 percent month-over-month increase, according to the American Trucking Associations, who produces the index monthly.
However, the numbers may be slightly misleading as to trucking's and the economy's true stability, says ATA Chief Economist Bob Costello, who says the numbers "may be overstating the robustness of the economy and trucking generally."
"It just so happens that the sectors of the economy that are growing the fastest — in housing starts, auto production and energy output, primarily through hydraulic fracturing — produce heavier than average freight, leading to accelerated growth in tonnage relative to shipments or loads," Costello said.
Still, the increase was the largest month-over-month rise since May of this year, and year-to-date, the tonnage index is up 5 percent over the same period in 2012.
The truckload industry has seen an acceleration in loads in recent months, Costello says, but loads are still flat year over year. Less-than-truckload loads, however, are up 1.5 percent year to date.
Related:
CCJ Top 250 see 5.7 percent revenue growth in 2012
Best of times? Regulatory changes offer both promise and peril