TransAm Trucking uses optimization software to match the loads in its network with available equipment and drivers. The software, Driver&Load from Manhattan Associates, instantly analyzes a large dataset of load origins and destinations, transit times, empty miles, available driving hours and much more.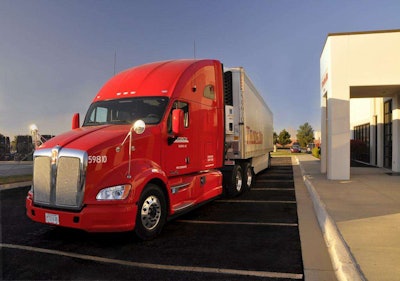 TransAm has benefitted by decreasing its deadhead mileage and keeping commitments with customers for on-time service and with drivers for home time and pay. The automation also gives load planners, called customer service managers, the time to focus on higher-level challenges like balancing the network and managing capacity commitments.
About two years ago, the company implemented Load Analyzer, also by Manhattan. Its managers gained visibility of key performance metrics and began using a standard workflow to improve fleet performance and profitability.
"By taking a high-level view of the entire network, we can see where each area is for balance and profitability by customer, and whether we are above or below commitments," says Ron Crum, applications manager for the Olathe, Kan.-based refrigerated carrier with 1,200 trucks. "(Load Analyzer) is an easy way to access the type of loads we should be getting and see how it impacts the rest of the network for balances."
TransAm, ranked 86 on the CCJ Top 250, is one of many fleets that use optimization software to make routine planning and routing decisions. The technology can do more than improve efficiency; it can solve big problems for customers to grow your business.
To see the list of 5 ways to expand your routing technology and business opportunities, click here: NEXT>>