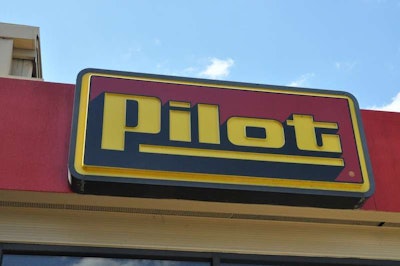 FST Express, a Columbus, Ohio-based carrier, has become the latest trucking company to sue Pilot in the wake of federal allegations that the company intentionally and systematically defrauded diesel fuel customers out of owed fuel rebates.
The 19-page lawsuit says FST had a decade-long business relationship with Pilot and worked with Pilot sale manager John Spiewak, Pilot account manager Janet Welch and Pilot sales director Arnie Ralenkotter. Spiewak has been placed on administrative leave for involvement in the rebate withholding scheme, the lawsuit notes, while Welch and Ralenkotter have both pleaded guilty to counts of fraud.
The amount in controversy exceeds $75,000, according to the court documents.
At a point in 2011, the suit says, FST realized a discrepancy in the amount it was owed by Pilot in fuel rebates and the amount it actually had received. "Defendant was not providing the agreed upon discounts," the lawsuit says. "Defendant was overcharging Plaintiff, and Plaintiff was paying more than the parties had agreed."
According to the lawsuit, Pilot then misled FST as to why the discrepancy existed. Welch told FST President Dave Kent that the discrepancy occurred due to a staffing issue, as "the normal discount person was out and there was an error made when flagging the new deal," the lawsuit says Welch told Kent.
Pilot then sent FST a check for $22,646 to square up. The lawsuit says, however, that FST obviously at the time did not know about the wide-spread fuel rebate withholding scheme nor did it realize "the discounts provided to Plaintiff were much greater than Plaintiff had realized and Defendant had admitted to."
FST has opted out of the class-action lawsuit that Pilot settled on in an Arkansas court in July, in which it was ruled that affected customers would receive all money owed, along with 6 percent interest and any court costs or attorney's fees.
Members of the class, however, do have the option to opt-out of lawsuit by Oct. 15 and sue Pilot separately, as FST has done.
A judicial panel in Maine rejected in August a motion to consolidate outstanding lawsuits not included in the July settlement, deferring them to the already agreed upon settlement.
FST is suing Pilot — similarly to prior suits — on counts of fraud, breach of contract, violation of deceptive trade laws, violation of consumer protection laws, conversion and unjust enrichment. The carrier is seeking actual damages, consequential damages, compensatory damages, punitive damages, treble damages, costs, attorney's fees and interest.