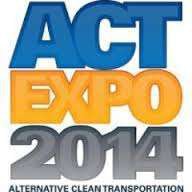 The 2014 ACTExpo in Long Beach, Calif., offered more than 190 speakers and an expansive exhibit hall showcasing the latest alternative fuel-related technologies from leading OEMs and industry suppliers. Below are links to CCJ and HardWorkingTrucks.com's coverage of the annual conference:
Shipper and carrier representatives from Owens Corning, American Honda Motor Co., Sheehy Mail Contractors and Seaboard Foods shared their thoughts on the factors driving natural gas adoption among fleets and highlighted ways carriers and shippers can work together to make a natural gas conversions work for all parties.
Executives from Daimler Trucks North America, Volvo Trucks, Tata Motors and Audi AG discussed global initiatives to bring natural gas, electric and other alternative fuel solutions to their global customers across their vehicle portfolios.
Ryder System announced a new purchasing agreement with Quantum Fuel Systems Technologies Worldwide for compressed natural gas fuel systems to Ryder's CNG truck lease customers.
The Mobile Source Air Pollution Reduction Review Committee awarded Penske Truck Leasing with $525,000 in grants to help modify existing maintenance locations to service natural gas vehicles.
Alliance AutoGas' new T3MR Fleet Fuel Management System allows fleets to have real-time management data to propane fueling and provides a safer dispenser nozzle that emits only 0.4 cc's of fuel when disconnecting.
Clean Energy Fuels announced separate fueling partnerships with Kroger and Cardenas Markets, which includes the design and installation of a liquefied natural gas fueling location in Oregon. Kroger committed to adding 40 LNG-powered trucks, while Cardenas is adding 15 CNG-powered trucks to be used in California and Nevada.
Fleet executives, OEMs and industry analysts discussed the future of freight efficiency in the face of increasing emissions regulations; OEMs discuss the impact of the SuperTruck program on fuel economy.