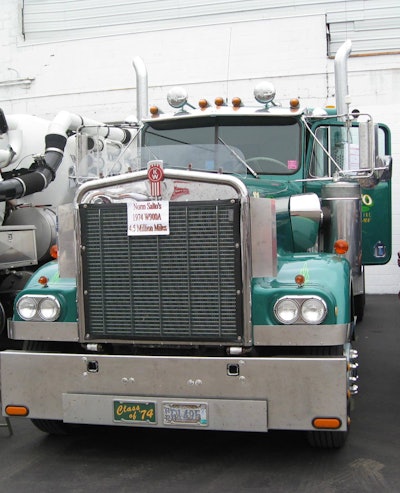 Many trips down memory lane were taken when Rihm Kenworth recently celebrated its 65th year as a Kenworth dealer. The St. Paul, Minn.-based dealership held an event that featured the Kenworth T680 Advantage 'Efficiency in Motion Road' Tour, local products and services. The anniversary event coincided with the opening the day before of the Minnesota State Fair, one of the country's top five fairs.
"Our 65th anniversary event was attended by more than 400 people and our customers received a good look at the most aerodynamic truck in Kenworth's history. The presence of the Kenworth T680 Advantage and tour trailer at our celebration just made it all the more special for us," said Kari Rihm, who serves as president and dealer principal of one of Kenworth's oldest family-owned dealerships. Rihm took over the reins of Rihm Kenworth following the death of her husband, John, in 2010.
Having several old Kenworth trucks belonging to current and former long-time customers present for the celebration also made the day special, Rihm added.
"We had a 1928 Kenworth (Model VS107) that belongs to a former long-time customer – Al Koenig*, at our event," she said. "And we had a 1974 Kenworth K100 cabover with only 539 original miles that a customer bought from us years ago as a collector's item. In fact, it's very likely that my husband put most of those miles on the truck. He probably drove it from the old Kenworth manufacturing plant in Kansas City, Mo., to Rihm Kenworth. About that time, he drove trucks from the plant back to St. Paul for customers while attending school."
Rihm said having customers visit and reminisce about the history of her family's company and the place her family has had in their lives makes her immensely proud of being a part of the company's history. She said she believes the event not only celebrated the place Rihm Kenworth has had in the history of the community and Kenworth, but also represented a bridge to Kenworth's next generation of customers.
"Our son, J.B. Rihm, who's named after his great-grandfather, and manages outside parts sales for the company, planned this event and did such a fantastic job of creating a buzz about it by using social media," Rihm added. "We've always tried to be at the forefront of using new technology to reach out to our customers and serve them. We were one of the first Kenworth dealers to offer a web site. It was our web site that a Saudi businessman found when he was here with his father, who was being treated at the Mayo Clinic in Rochester, Minn.
"That Saudi businessman bought some Kenworth parts and took them home and over the years we've grown that international business by word of mouth, personal visits and social media to become a major exporter of new and used Kenworth trucks and parts," she added. "But we've never forgotten our roots back home, taking care of our local customers by providing them Kenworth trucks that offer them a lower cost of ownership like the T680 and outstanding parts and service support."
In honor of its 65th anniversary, Rihm Kenworth has put together a video entitled "Rihm Kenworth – Windows Down". The 4-minute video is available for viewing at: https://www.youtube.com/watch?v=JkdYeUQx3Dk&feature=youtu.be.