A theme emerges when sorting through all the technology news from the American Trucking Associations' annual conference in San Diego, Oct. 4-7. Fleets and suppliers are focused on the user experience, particularly the driver's experience, of technology to achieve desired results.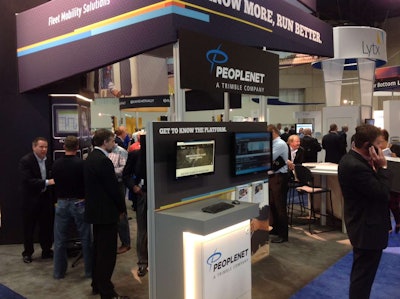 All technology suppliers call their products "solutions," but what do their products actually solve and how? It's people, the users, who actually have to do something with the information to make a difference.
To solve a human problem, a mobile computing system has to do more than connect the machines in your office to trucks and drivers on the road and to servers in the cloud. Having the right tools to quickly analyze data is essential for people to compete in today's environment.
Judging by the technology on the ATA exhibit floor, a solution starts with configurable options to meet the specific needs of certain segments in the trucking industry, and individual companies and people. More importantly, it must present information to humans in a simple but effective way to change behaviors.
Video-based driver risk management systems were the highlight of the show. This technology can be difficult to implement in a tight driver market with concerns over privacy, but the interest among fleet owners and executives is growing. These systems have a unique ability to capture, analyze and present information to change behaviors.
With video evidence, fleets can better coach drivers to avoid repeat offenses, enhance training meetings with footage of risky behaviors, and increase recognition for drivers that do things right. They can also protect drivers from wrongful accusations.
Lytx recently produced a compelling video that shows how its DriveCam program works in these regards.
When using the DriveCam web portal, driver managers see a priority list of drivers, ranked by risk, with video clips of the event. DriveCam's analytics engine determines which drivers are top priority for coaching and intervention. For instance, drivers that have an avoidable, near collision event are six times more likely to have a collision in the next six months.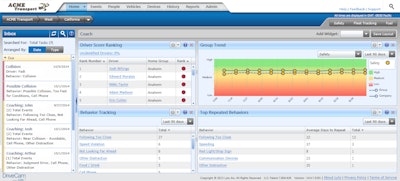 "We make it easy to manage. We're doing all the heavy lifting," said Jim Angel, general manager of DriveCam for Lytx.
Lytx is currently working on an initiative to bring data into its driver risk profiles from outside sources, like CSA violations. This will create a more complete driver profile, Angel said. The company has tailored its DriveCam program for different segments of the transportation industry, such as fleets who want the inside, rear-facing camera turned off to alleviate privacy concerns that might interfere with their driver recruiting and retention efforts.
SmartDrive has made its risk management system configurable with up to four cameras to obtain a 360-degree view. Its new SmartDrive Assurance product line can be fine-tuned to match the risk priorities and specific fleet operating environments of fleets, it says.
Zonar completed an agreement with GreenRoad to offer real-time driver feedback and driver behavior monitoring application on the Zonar 2020 mobile tablet. With GreenRoad's Android application, Zonar customers will have ready-made driver behavior tools to help increase fuel economy, safety and fleet efficiency.
Other news announcements from ATA showcased ways to make drivers' lives more convenient and to save companies money. PeopleNet announced an upgrade to its in-cab scanning capabilities in partnership with Pegasus TransTech. When using scanning services remotely, drivers can now scan and transmit critical transportation documents using a Wi-Fi network to reduce cost.
Omnitracs announced the availability of its In-Cab Scanning application on the Mobile Computing Platform 50 (MCP50). Additionally, the Critical Event Reporting  (CER) application on MCP50 now supports speeding alerts and additional third-party devices from Meritor On-Guard and Bendix Wingman that focus on collision mitigation and roll stability.
Rand McNally has made the Drivewyze PreClear weigh station bypass application available on its TND 760 mobile fleet management devices. Drivewyze PreClear is a cloud-based service to alert drivers 2 miles before approaching a site, affording fleets the opportunity to earn up to a 98 percent weigh station bypass rate, depending on their safety records.
During the ATA show, technology suppliers also shared examples of how they can bundle applications together to offer more savings to customers. AT&T discussed how Saia LTL Freight is using a suite of products called AT&T Advanced Mobility Solutions to simplify its work processes.
Saia's drivers use rugged handheld computers to connect with dispatch managers and fleet operations. Additionally, the AT&T wireless network is embedded in Saia's vehicle computers to provide updates on fuel consumption, driver and engine performance and electronic driver logs.
Saia also has embraced Wi-Fi technology at its terminals. AT&T's Multiprotocol Label Switching (MPLS) network helps the company run crossdock functions to keep inventory of freight at various locations.
The main takeaway from this year's ATA show is that fleet managers and drivers don't want more information; they have enough already. They want problems to be solved, which more often than not requires a human touch. Getting the right information to the right people at the right time is what makes the human touch more effective.
In case you missed it, click here to see a photo gallery of some of the new products in the exhibit hall.