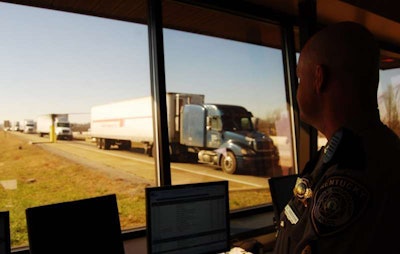 The Federal Motor Carrier Safety Administration announced Jan. 12 it will be granting states $30 million to invest in infrastructure for technology that collects and sends safety data in real-time to inspectors and enforcers.
Though FMCSA did not say specifically what types of technology the money will be used for, it did say the real-time data will be used by inspectors to "prioritize carriers for detail inspections based upon past performance, while assisting law enforcement officers conducting on-scene crash investigations," says FMCSA Acting Administrator Scott Darling.
The money was made available through two programs, the Commercial Vehicle Information Systems and Networks and the Performance Registration Information Systems Management.
CVISN will award $25 million for technology aimed at deploying technology that focuses on "high-risk operators," FMCSA says. It also will electronically screen commercial vehicles, FMCSA says, and allows for online application and issuance of registration and fuel tax credentials.
Through PRISM, $5 million will go toward better integrating state registration and licensing systems. It will determine the eligibility of a carrier or registrant at the time of licensing or registration of the vehicles, FMCSA says, and it will automatically suspend or withhold ineligible registration from one state to the other.
States should begin receiving the grant money this spring, FMCSA says.