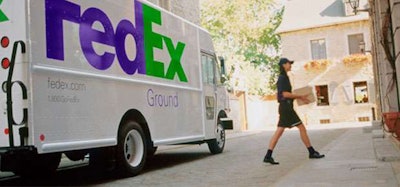 FedEx Ground last week announced, as reported by CCJ earlier this week, it has reached a $228 million settlement with truck operators in a lawsuit that centers on the driver plaintiffs' designation at the company as independent contractors, instead of company employees, disqualifying them for benefits like overtime pay, rest periods and more.
The suit and subsequent settlement covers roughly 2,300 drivers that worked at the company between 2000 and 2007, and the 9th Circuit Court of Appeals — the last stop before the Supreme Court — ruled in favor of the drivers bringing the suit.
And the $228 million settlement reached in this case covers just this case, Alexander vs. FedEx, says FedEx spokesperson Perry Colosimo.
The case, Colosimo said in a statement, "is focused on California state law," and any similar cases still pending, like the one the Kansas Supreme Court ruled on last year, "will be decided consistent with the laws of the states in which they are pending."
Kansas' high court last year also ruled against FedEx Ground and for the 500 or so drivers in the class-action litigation.
The model being questioned by these suits, however, has also long since been amended, Colosimo says, specifically in California, the state where the case that FedEx has tentatively settled originated.
"The contractor agreement that was reviewed by the Court of Appeals is no longer in use. Since 2011, FedEx Ground has only contracted with incorporated businesses, which treat their drivers as their employees," Our relationship with these businesses in California will be further enhanced as we complete the transition to a new independent service provider agreement later this year."
This is one of many similar civil cases in the last year to go against the carrier defendants and for drivers bringing the suits — giving carriers reason to take a hard look at their independent contractor agreements, especially in West Coast states.