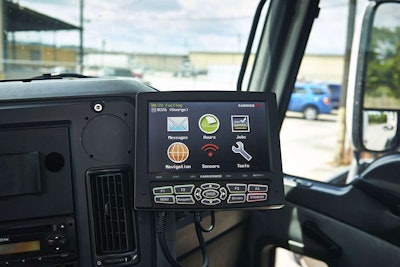 For years, trucks have had a built-in controlled area network (CAN) that its various systems and components use to share information with other connected systems on the vehicle. The information in this network has a standard format or protocol called J1939 for heavy-duty trucks and OBD-II for light-duty vehicles.
Aftermarket devices, like onboard scales and tire pressure sensors, can connect to the vehicle network through a wired connection to send and receive information. Mobile communication platforms also plug into this network to monitor and transmit information to the office.
"Our industry has been doing the Internet of Things for a long time," says R. Fenton-May, chairman of CarrierWeb, a provider of mobile communications and telematics technology. Onboard devices, such as CarrierWeb, use the J1939 connection to provide mission-critical data for electronic logs, load tracking, driver performance monitoring, and more.
Mark Botticelli, chief technology officer of PeopleNet, says there is an opportunity to improve the sharing of information among various third party systems that connect to the vehicle networks like lane departure warning and stability control. Currently, most of these systems do not know what the other devices on the network are saying, he says.
PeopleNet's latest onboard unit, the PeopleNet Mobile Gateway (PMG), is designed to enable greater data sharing among third party systems in the truck, he says. As an example, perhaps an engine sends a certain fault code that several devices on the vehicle want to see immediately. The company is developing a service that will make it easier for third party devices to get that information in real time.