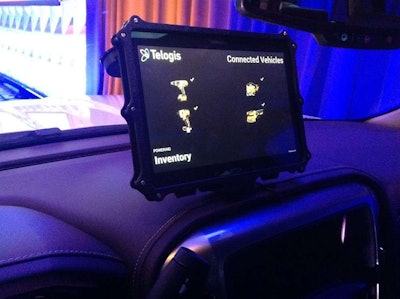 Manufacturers of commercial trucks are using connected vehicle technology to attract and keep buyers. Many now install telematics platforms at the factory to collect and monitor diagnostics data to help their customers reduce maintenance costs and boost productivity.
Remote diagnostics is the foundation of this trend. The vision is to move beyond diagnosis to prognosis of mechanical problems and over-the-air programming of engine electronics, says Rich Glasmann, vice president of OEM strategy, sales and marketing for Omnitracs.
Imagine being able to remotely adjust engine parameters to decrease max idle when going into California to meet the state's emission laws, or adjust the governed road speeds when traveling through parts of Texas. The electronic control unit (ECU) of the engine and automated transmission could also be remotely updated with new software for warranty campaigns. Ultimately, OEMs will be able to add the capability to change the way trucks are operating according to topography and climate, he says.
"You can optimize for fuel economy in certain conditions," he says. "A lot of those things are in the works today." Glasmann spent 17 years at Navistar and three years at Volvo before joining Omnitracs. He predicts that all of the examples above could become reality within three years.
Close relationships between OEMs and telematics providers are necessary to make this happen. This is where the Internet of Transportation Things gets really interesting. As OEMs develop close partnerships, mobile computing will become the opposite of what it used to be. Carriers can pick and choose different suppliers for their hardware, software and wireless communications.
Omnitracs as well as other providers will become "hardware agnostic," meaning that they will develop software to be compatible with a number of third party telematics devices and display options, he says.
In March, PeopleNet announced a telematics partnership with Peterbilt and Kenworth. Its telematics device comes with the trucks, though nothing from a technical standpoint would prevent a third party from accessing data through its mobile gateway, Botticelli says. The company envisions creating an environment like Apple and Google have done where anyone can develop apps for an in-cab environment and online, and PeopleNet collects a fee.
"It would be nice to have a business model where we are collecting a toll on data," he says.
Telogis sees the same trends happening with its own OEM partnerships. The likelihood that third party apps will be able to use telematics data from its device raises the bar for competition which is a good thing, Frey says.
"When you are a cloud-based company, every day you have to earn your business," he says. "We have to assume that somebody can find the best application that works for them."
Daimler Trucks of North America installs telematics from Zonar Systems in its vehicles at the factory. "If you like someone else's program you should be able to run it. I don't see what stops that," McQuade says. "I don't think it is wise for a telematics vendor to not be open to that concept."