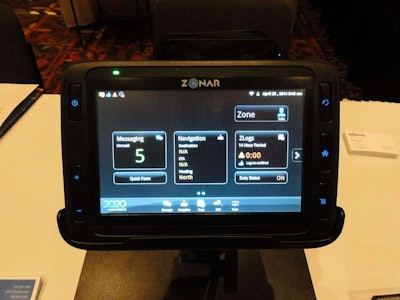 Keeping technology current is a challenge for any business, especially when new devices and applications are not compatible with the systems they already have in place.
During the past few years, companies that supply mobile fleet management systems have aligned with consumer trends in technology. What this means is that more devices and applications are able to connect, straightaway, to accelerate the speed of new technology coming into the industry.
Earlier this year, Rand McNally released an Android tablet that runs its own truck-navigation software and suite of mobile applications. It also assembled a dedicated team focused on integrating its platforms with sensors and other "things" its customers want to add to their trucks, says Dave Marsh, the company's vice president of research and development.
"We have teams that can jump on that now," he says. Rand McNally has another product, the HD 100, that uses any Android or Apple device for the display. This small, wallet-sized device plugs into the vehicle's diagnostics port to synchronize the electronic logs and other software in its client app with the engine data. The HD 100 communicates to a display using a secure Wi-Fi connection and has an embedded cellular modem for long-range Internet connectivity.
With the growth of more consumer-friendly devices and applications, technology in the trucking industry is getting closer to "plug and play" functionality, but the gap is still wide. No in-cab platform offers the same experience as installing a new app on a PC by plugging a USB device or pairing a new device, like a Fitbit, with your smartphone via Bluetooth.
Companies like Microsoft, Google and Apple have the manpower to create thousands of "device drivers" for seamless integration, says Mike McQuade, chief technology officer of Zonar Systems. As more fleets adopt Android platforms he expects more compatibility. Android already has a number of built-in device drivers for tablets and smartphones to talk with peripheral devices through Bluetooth and Wi-Fi, he says.
Jeff Champa, senior director of product management for Omnitracs agrees, but says there is more to consider than plug and play functionality for enterprise applications.
"The application ecosystem may be limited when it comes to apps that integrate with our product solutions. We would want to make sure that any integrated apps work well, provide value and have a positive user experience. This is not too different from what Apple does as they require all apps to go through a certification process," he says.
McQuade expects to see more industry suppliers doing what Zonar has done — offer an industrial-strength tablet with a custom Android operating system to control the application ecosystem on the device. The Zonar 2020 Mobile Tablet runs its own proprietary applications like electronic logging and vehicle inspections as well as customized user and third-party applications.
PeopleNet plans to release an Android option for the display portion of its fleet mobility platform. This will enable drivers to take the display with them outside of the cab and access the same apps like electronic logs and messaging, using a Wi-Fi connection.
The cornerstone of its platform is the PeopleNet Mobile Gateway (PMG), Botticelli says. The PMG is designed to share information with any type of display including drivers' smartphones. Drivers will be able to access most of the same apps, like messaging and performance scorecards, using any device. "The big focus is on making a driver's life easier," he says.