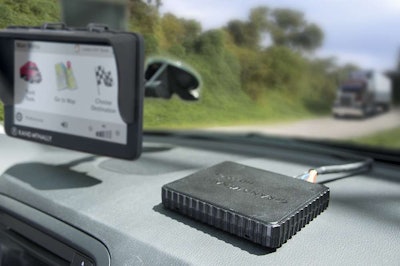 In the consumer world, multiple devices can connect to the Internet through a single access point – typically a smartphone. Ideally, every device on a tractor and trailer could connect to the Internet through this Wi-Fi hotspot to consolidate the costs of having separate data plans for their trailer tracking, mobile computing, video event recorders, and more.
Some suppliers may not want to allow open access to their wireless network to protect their profit margins. Others are in favor.
Rand McNally is field testing its HD 100 to function as a mobile hotspot to allow third party apps on the device, such as barcode scanning and proof-of-delivery, to use a single data plan, Marsh says.
CarrierWeb's in-cab computing platform, CarrierMate, is not going the path of Android but some functions like driver messaging will become available for drivers on personal devices, says R. Fenton-May, chairman of the company.
Telogis has its telematics devices installed at the factory by a number of truck manufacturers: Volvo, Mack, General Motors, Isuzu and more. Its software-as-a-service mobile platform is compatible with smartphones and tablets which run its suite of applications that include commercial navigation, compliance and route optimization.
Its telematics device functions as a mobile hotspot to communicate with third-party sensors on the vehicle through a secure Wi-Fi connection, says Kelly Frey, vice president of product marketing. Reefer temperature sensors are one of several possibilities; Telogis can pick up data streams through its Wi-Fi hotspot from the reefer units of Thermo King and Carrier.
"Telogis has always been built with the notion of connecting with other systems for sharing data," he says.
It is possible that drivers or hackers could use a hotspot in a vehicle to connect to the Internet. This carries the risk of introducing a virus into the system. The same is true when mobile platforms connect to public Wi-Fi hotspots to browse the Web or transfer mission-critical information to the office.
CarrierWeb has decided to stick with a more traditional cellular connection between the vehicle and its servers in the cloud.
"The systems we've got now are relatively safe to external risks," he says. With the emergence of Android platforms, Fenton-May says it is critical to ensure that third party apps do not interfere with mission-critical data.
"What if you are in middle of doing something and an app decides it needs to update? It could shut the system down," he says. "It has all got be controlled."