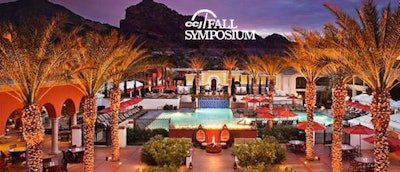 Registration for CCJ's Fall Symposium in Scottsdale, Ariz., is open for fleet executives and managers.
The annual event will be held Nov. 16-18 at the Omni Scottsdale Resort and Spa at Montelucia. Those interested in registering can do so here. Full registration includes two nights at the hotel, access to all sessions, meetings and meals, and a choice of golf, a wine tasting or a chef cooking class. There is also partial registration that does not include hotel registration, as well as sessions only registration.
Onsite registration and check-in will be held Monday, Nov. 16, and the three optional events will be held Monday afternoon.
Symposium sessions will begin with opening remarks at 7:45 a.m. Tuesday. There will be breakout sessions throughout the day.
Rob Moseley, head of Smith Moore Leatherwood's Transportation Industry Group, will discuss the legal challenges to the independent contractor business model, hourly pay and other employer/employee trends and their potential impact on recruiting and retention in a session called "Business: Independent Contractor Model Under Assault."
There will also be a session called "Technology: Using Technology to Improve Driver Performance" discussing in-cab monitoring.
On Wednesday, Nov. 18, there will be a session that covers the changes carriers can expect from the Federal Motor Carrier Safety Administration in the near future and the impact it will have on their operations. There will also be a session on the 2016 economic outlook covering trends that will impact freight demand in the coming months and years.