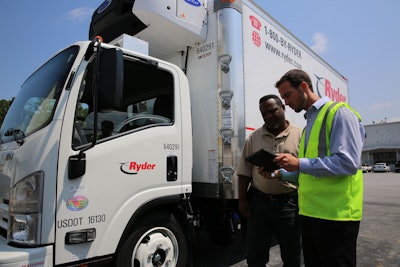 Ryder System, a leader in commercial fleet management, dedicated transportation, and supply chain solutions, today announced that its commercial rental customer loyalty program, Ryder RedZone, has reached 20,000 members. The customer reward program provides Ryder rental customers in the United States and Canada with a convenient way to earn points and rewards for each rental dollar they spend.
"We know businesses have a choice when searching for commercial vehicle rental providers, so this is our way of showing our customers that we appreciate their loyalty to Ryder," said Richard Mohr, Vice President & Global Product Manager, Rental Operations for Ryder.
To participate, customers can simply sign up at RyderRedZone.com and continue to rent regularly to earn points. Participants can choose to redeem points from a selection of thousands of rewards, including lifestyle and sports merchandise, consumer electronics, home and garden supplies as well as Ryder branded products. Once ready to redeem points, Ryder RedZone members are able to review earned points online, make selections, and have items shipped to them directly.
"We pride ourselves on our commitment to customer service so we appreciate that Ryder does the same with its innovative Ryder RedZone customer loyalty program, said Ryder RedZone Member, Stephen Mullis, Lead Vendor Procurement Administrator for leading environmental, energy, and industrial services provider, Clean Harbors. "Plus, the fact that there is no limit to the number of points that can be earned or accumulated over time is pretty sweet."
New Ryder RedZone customers who register by October 31, 2015 will receive a 400-point enrollment bonus and currently enrolled customers can enjoy 20% off merchandise until October 31, 2015 as well. Also, those who enroll and participate in monthly opinion polls will have 50 points per poll added to their account. The customer feedback achieved through these surveys helps Ryder improve its products, services, and value provided to its customers.
Each month, Ryder RedZone members earn ten percent of their organization's net rental spend in points. Hassle-free electronic statements make it easy for members to track their points, without having to deal with an annual membership card. Ryder RedZone is currently available to U.S. and Canadian customers offering the industry's only rewards program to all Ryder rental customers in North America.