CCJ's Indicators rounds up the latest reports on trucking business indicators on rates, freight, equipment, the economy and more.
---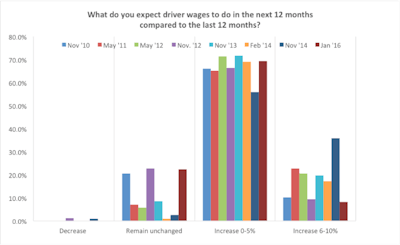 Freight slump drags driver pay down — will it last? A freight slowdown seen in the fourth quarter of 2015 caused driver pay growth to subside, at least temporarily, according to a recent report by the Transport Capitol Partners. Carriers expect driver wages to grow in 2016, TCP says, with 70 percent expecting trucker pay to climb between 1 and 5 percent this year. However, 22 percent of carriers surveyed by TCP said they do not expect driver wages to grow at all in 2016.
"Carriers are in a tactical seasonal strategy – the first quarter being weak in loads, more drivers being available from construction in northern climates, and deep cutbacks in truck purchases over the last couple of months," says Richard Mikes, a TCP partner. "The longer term struggle between business caution and the need to improve driver staffing via driver wage levels will be interesting to watch in 2016."
---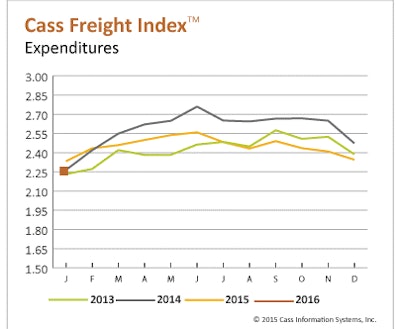 Freight shipments, spending continue downward trend: The number of freight shipments in January, as measured by the Cass Freight Index, fell 1.3 percent from December, while freight expenditures were down 1.9 percent from December.
Those small dips continue a months-long trend in both shipments and expenditures, according to Cass reports, each falling more than 11 percent since June 2015.
Compared to January 2015, shipments were down just 0.2 percent and expenditures were down 1.4 percent. Cass says manufacturing is expected to continue its recent growth, however, which should put upward pressure on freight shipments and expenditures.
---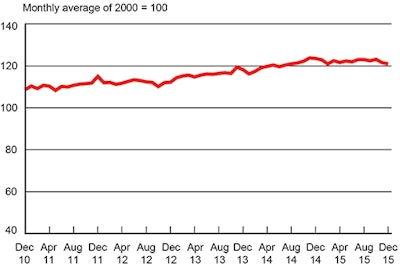 DOT index shows freight dip, too: The amount of freight carried in December by the for-hire transportation industry, as measured by the DOT's Freight Transportation Services Index, fell 0.4 percent from November. However, trucking-moved freight increased, the DOT reports, and it was the only mode that did. Freight movement dropped 2 percent from the same month in 2014, the DOT reports.