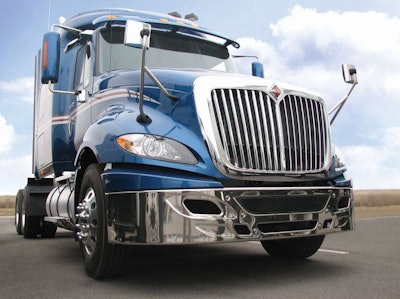 International Truck announced Wednesday it is now offering GPS-based predictive cruise control as an option on its ProStar and LoneStar trucks.
International's predictive cruise control uses preinstalled GPS maps and updated commercial route data to make adjustments to cruising speed without the need to pre-drive the route.
"When [predictive cruise controls] originally came out, the systems kind of learned the route and picked an optimized speed and transmission shift setting based on what it learned through driving," Denny Mooney, Navistar senior vice president, global product development, says. "Some of those systems didn't really see fuel economy improvements."
Because the GPS maps and route data are already loaded, the technology – which Mooney says was born from the company's SuperTruck program – will enable fleets and drivers to obtain greater fuel efficiency and reduced emissions right out of the box.
"We actually got this into production before the SuperTruck program wrapped up," Mooney adds.
Predictive cruise control, which Mooney says was designed to minimize brake usage by seeing the route and terrain ahead and making adjustments accordingly, also monitors driver speed, engine load, weight and road grade in order to optimize the vehicle's performance.
As a truck enters certain types of terrain, such as rolling hills, predictive cruise control will modulate cruising speed to correspond to the topography.
Mooney says data suggests this technology, when coupled with a Navistar or Cummins engine and an Eaton transmission, can increase fuel efficiency by up to 4 percent.
"Frankly, on really hilly routes, we've seen higher than 4 percent fuel savings," he adds.