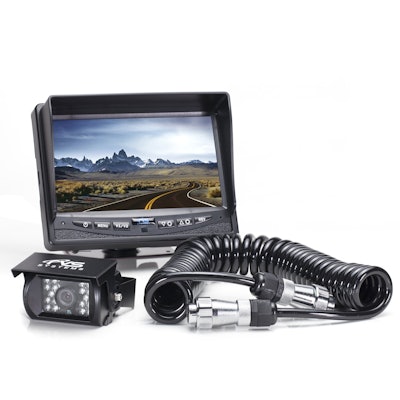 Electronics have infiltrated practically every corner of the modern truck cab in an ongoing effort to make driving safer and easier, and backing up – often an afterthought when it comes to driving – has been thrust into the foreground as of this year with plenty of techno-aids in tow.
Rearview cameras are increasingly common on the road and were implemented as standard equipment on passenger cars beginning with the 2016 model year.
In 2014, the U.S. Department of Transportation (DOT) mandated that automakers include backup cameras on 10 percent of vehicles built from May 1, 2016, to May 1, 2017. That jumps to 40 percent the following year and 100 percent effective May 1, 2018.
While the DOT mandate is only applicable to vehicles under 10,000 pounds, rear view camera systems are finding favor with heavy trucks and fleets that operate within close proximity of sidewalks and driveways.
"[Refuse and sanitation] vehicles are often driving on narrow roads and constantly around pedestrians," says Rear View Safety Systems Content Strategist Manager Tyler Waugh, "[and] camera systems are also becoming more popular with box trucks and delivery trucks."
Ford has taken the rear view camera a step further on its Super Duty trucks by including three high-resolution cameras on its Trailer Reverse Guidance platform, which helps drivers see more angles, monitors the area around the truck and even provides coaching while backing up a trailer. Trailer Reverse Guidance includes a dynamic steering wheel icon that indicates to the driver which direction to turn the wheel in order to back up a trailer in a straight line
However, rear view camera systems – also popular with food service, energy/bulk fuel hauling and moving and storage fleets, according to Rosco Vision Systems Marketing and Web Manager Amy Ahn-You – aren't necessarily designed to make backing up easier. The goal is to make backing safer for children and passersby who find themselves in a truck's blind spot.
They are not, Waugh says, designed to replace time-tested means of checking for clearance.
"Never back up while looking at the monitor alone," he says. "You should always check behind and around the vehicle when backing up in the same way you would if your vehicle did not have a camera system. Backup cameras are meant to be a supplement aid to mirrors that exist on your vehicle."
"The backup camera and monitor view should be used as a reference and aid to the mirror information," adds Ahn-You. "Neither the mirrors nor the cameras should be used exclusively without proper investigation of the vehicle surroundings."
The camera is typically mounted at the top-center of the rear of the vehicle or trailer, and angled to eliminate the driver's blind spot.
Waugh says, on average, a quick connect/disconnect system installation takes around 3 hours and costs about $300 per truck. However, the system is portable, allowing trucks and trailers to be wired separately and easily connected/disconnected with a single cable to any 12V/24V power-source.
"This allows you to easily swap trucks and trailers while keeping your backup camera system," he says.
Similarly, Ahn-You says Rosco's wireless transmitter/receiver kit can be adapted to nearly any Rosco backup camera kit and allows for tractors to exchange trailers and see the proper camera image without introducing additional coil cords for hardwire connection.
Installation can range, Ahn-You adds, from $500 for trailers to $350 for straight trucks but any upfront cost, she says, is offset quickly.
"Whether the system helps prevent truck damage, property damage, or elude the catastrophic backup accident, the payback is swift and effective," she says.