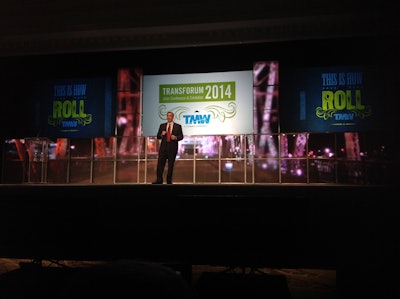 Trimble companies PeopleNet and TMW Systems are gearing up for their inaugural in.sight joint user conference, held Sept. 25-28 in Nashville.
Thousands of professionals are expected to attend what will likely be the largest technology event in the transportation industry with more than 350 educational sessions, over 70 exhibitors and dozens of networking opportunities for representatives from for-hire and private fleets, brokers, 3PLs, heavy duty repair centers and more.
PeopleNet is a provider of fleet mobility technology, and TMW Systems of transportation management, asset maintenance, last-mile delivery and business intelligence solutions,
"By combining the PeopleNet and TMW conferences into a single event, we set out to create a truly unique experience that establishes a new benchmark for customer value," said Brian McLaughlin, president of PeopleNet. "We plan to provide attendees with a transformative learning and networking experience for transportation enterprises of all types and sizes."
The companies say the conference's educational sessions are designed to help attendees learn how the right mix of technology can help to boost operational efficiencies, enhance innovation and improve bottom-line performance.
A series of "Peer2Peer" roundtables will dive deeply into an array of issues – and applied solutions – affecting today's transportation businesses. Attendees also will have the opportunity to meet with hundreds of technology experts from PeopleNet and TMW as well as an array of other leading solutions providers.
"Attending in.sight is essential for any industry enterprise that is committed to maximizing its competitive advantage through technology," said TMW President Dave Wangler. "This is not simply a user conference; it's a truly immersive experience that enables participants to examine trucking intelligence from every angle."
In addition to educational and networking sessions, the event will include presentations by noted industry authorities covering fleet maintenance, regulatory updates in the logistics market, women in trucking and the importance of establishing a culture of safety.
PeopleNet and TMW also will announce the recipients of the organizations' "Innovator of the Year" awards, which recognize customers who have best leveraged technology through innovations in integration, custom-tailored applications, process implementation, training methods and more.