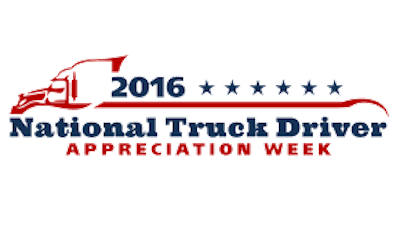 National Truck Driver Appreciation Week kicked off Sunday, Sept. 11, across the U.S., and with it came several deals and acknowledgement for truck drivers at truck stops, from industry organizations and more.
Spearheaded by the American Trucking Associations, NTDAW is coordinated each year to show the country's 3.5 million truck drivers that carriers, shippers and the rest of the industry appreciate the job they do, according to the organization.
Here's a look at some of the promotions and other efforts taking place during the week:
Trucking Moves America Forward, the industry image and education campaign, is encouraging the trucking industry and the general public to get involved by using the hashtag #ThankATruckDriver on social media during the week. The organization is celebrating drivers with a dedicated educational campaign showing truckers in three informal or amateur scenarios to show their personal and family sides outside of trucking. TMAF will also debut billboards along major roadways for the first time, an example of which follows.

---
A. Duie Pyle will highlight its drivers on the company's social media accounts every day during the week.
---
Swift is celebrating its drivers with a company-wide celebration that will include activities at all Swift terminals, giveaways and gifts. The company will host a 50th anniversary celebration at its corporate headquarters in Phoenix on Sept. 15.
---
iLuvMyTrucker nominations opened during the week, which gives the opportunity to recognize truck drivers. Nominations are now open and will run until the end of September. To nominate a trucker, fill out the iLuvMyTrucker form and attach a photo of the driver, then click the "Submit Your Nomination" button. The contest is hosted by CCJ sister site Truckers News.