CCJ's Indicators rounds up the latest reports on trucking business indicators on rates, freight, equipment, the economy and more.
---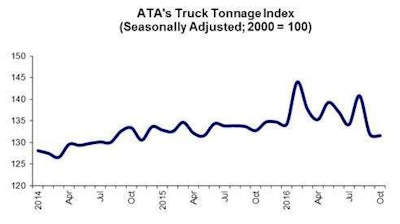 ATA reports tonnage dips in October and September: The amount of freight carried by the for-hire trucking industry, as measured by the American Trucking Associations monthly For-Hire Truck Tonnage Index, fell slightly in October  (0.3 percent) from September.
ATA also downwardly revised its originally reported gain for September, now reporting a 6.3 percent decline from the month before.
Compared with October 2015, the index fell 0.9 percent, the second straight year-over-year decline. In September, the year-over-year drop was 1.3 percent. Year-to-date, compared with the same period in 2015, tonnage was up through October 2.5 percent.
"The bottom of the current tonnage cycle should be near," said ATA Chief Economist Bob Costello. "There are some recent trends that suggest truck freight should improve, albeit gradually, soon. Retail sales, housing starts, and even factory output all improved in October, which is a good sign. Most importantly, there has been considerable progress made in clearing out excess stocks throughout the supply chain. While that correction is still ongoing, there has been enough improvement that the negative drag on tonnage shouldn't be as large going forward," he said.
---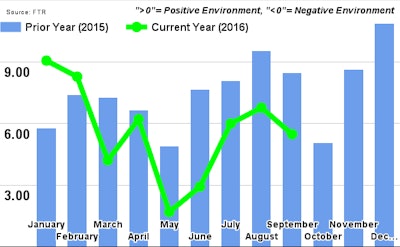 'Trucking Conditions' also dip, but likely near bottom: Trucking market conditions also continued to decline in September, according to FTR's monthly Trucking Conditions Index. However, FTR says the index should begin to show improvements in conditions for carriers, and conditions should continue to improve through 2017, peaking at the end of next year, FTR predicts.
As new trucking regulations strip industry productivity and capacity next year, FTR expects both rates and carrier margins to climb.
"The presidential election results have created some uncertainty in the market, mainly due to the lack of political and legislative experience from President-elect Trump. There are certainly several areas where the new administration could make an impact on the marketplace — with regulations being the chief area of presidential power in that regard. We will learn more in the upcoming weeks and months as the administration's team is finalized and the legislative and regulatory agenda is cemented," says Jonathan Starks, COO of FTR. "I wouldn't look for any significant impacts to the U.S. economy until relatively late in 2017. The U.S. economy should continue to grow — and trucking will grow slowly with it."