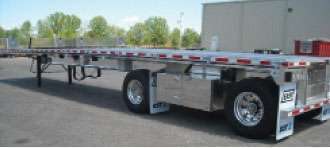 East Manufacturing will offer Hendrickson MAXX22T Trailer air disc brakes with Dura-Light Hub as the preferred air disc brake package option on all of its trailers, but additional brands are available.
The MAXX22T with Dura-Light Hub is an average 20 lbs. per axle lighter than MAXX22T with ductile iron hub. Its compact, lightweight monoblock caliper uses the WABCO single piston with a sealed and protected guide system for higher reliability, East says. 
The lightweight Dura-Light Hub on the MAXX22T features a premium e-coat to enhance corrosion resistance. East says its new hub-to-rotor connection reduces the time and effort required for stud changes in the field. On the MAXX22T trailer air disc brake option, East says it has upgraded to include the HXL5 Hendrickson Extended-Life wheel-end system with a 5-year warranty.
Additionally, Dave de Poincy, president of East Manufacturing Corp., says the lightweight cast rotor is more corrosion resistant. The bolt-on dust shield design is easier to install and maintain with built-in clearance to allow for simplified rotor inspection. In addition, MAX22T disc brake pads are easy to change out.
The MAXX22T trailer air disc brakes are compatible when tractors are equipped with drum brakes or other disc brake brands.