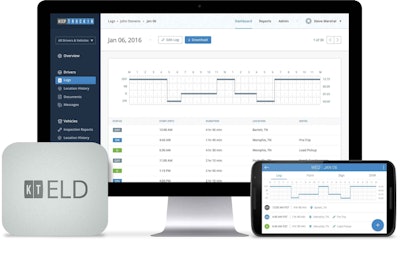 Comdata, a provider of electronic payment systems, announced a partnership with KeepTruckin, an electronic logging device (ELD) provider.
The partnership lets small trucking businesses buy, pay for and integrate KeepTruckin ELD systems into their operations by using the Comdata MyFleet Program.
The KeepTruckin system for iOS and Android is registered with the Federal Motor Carrier Safety Administration (FMCSA) as a compliant ELD solution.
Comdata says its MyFleet program is a custom portfolio of services that helps fleets stay compliant, lower operating costs and access capital from a single source.
With KeepTruckin's technology, program members can transmit electronic GPS logs to Comdata as part of the company's fully administered fuel tax (IFTA) offering. The KeepTruckin platform also helps users reduce Hours of Service (HOS) violations, save time filling out and auditing paper logs, and provide truck usage information such as idle time, vehicle diagnostics and driver safety scorecards.
"As the industry anticipates the impacts of the federal ELD mandate, small trucking fleets are demanding cost-efficient, responsive technologies that will keep them compliant without creating extra work," said Greg Secord, president of Comdata North American Trucking (NAT). "KeepTruckin's ease-of-use, functionality and affordability make it the ideal fit for the MyFleet Program, which has been designed to provide small trucking businesses access to the most critical tools for success, all in one place."
In 2016, Comdata surveyed approximately 500 U.S. small fleet owners and managers and found that more than 80 percent of respondents have not yet complied with the ELD mandate, with enforcement set to begin in December, 2017.
"We're excited to partner with Comdata as an industry-leading company that shares our commitment to meeting fleets' pressing needs through a personalized customer experience," said KeepTruckin CEO Shoaib Makani. "Additionally, KeepTruckin's ease-of-use will help Comdata customers reduce administrative hours and create opportunities to focus on driving.