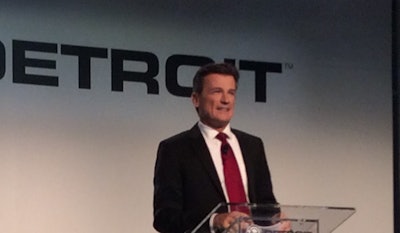 Wolfgang Bernhard is stepping down from the Daimler AG Board of Management, just more than one year before his contract with the company was set to expire.
Citing "personal reasons," Bernhard – the head of Daimler Trucks & Buses – notified the Chairman of the Supervisory Board, Dr. Manfred Bischoff, and the Chairman of the Board of Management and Head of Mercedes-Benz Cars, Dr. Dieter Zetsche, Friday of his intention to not seek an extension of his current contract, which expires Feb. 2018.
"We regret this resolution, but we have a number of outstanding managers to succeed," Bischoff said through a statement issued Friday. "We thank Wolfgang Bernhard for his committed work and respect his personal decision."
Bischoff says Bernhard will be released from his duties immediately with Dieter Zetsche heading Daimler Trucks & Buses until a successor is appointed.
Bernhard became Head of the Mercedes-Benz Vans division in 2009 and was appointed to the Board of Management of Daimler AG in February 2010. He was Board of Management Member for Production and Procurement Mercedes-Benz Cars & Mercedes-Benz Vans March 2013 and since April 2013, he has been responsible for Daimler Trucks & Buses.