CCJ's Indicators rounds up the latest reports on trucking business indicators on rates, freight, equipment, the economy and more.
---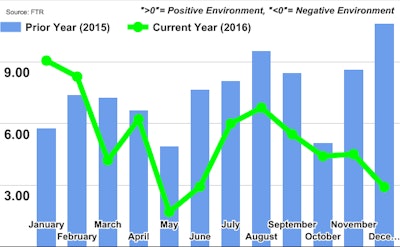 'Trucking Conditions' dip, but turnaround expected: Market conditions for trucking companies faltered slightly in December, according to FTR's monthly Trucking Conditions Index. The firm still projects conditions for 2017 to steadily swing in carriers' favor, however, via increased capacity utilization and higher rates.
"FTR is confident that trucking conditions are nearing an inflection point toward the position," FTR noted in its announcement for December's TCI.
FTR Chief Operating Officer Jonathan Starks says the coming compliance date for the federal electronic logging device mandate is expected to remain in place. As more carriers adopt ELDs ahead of the mandate, capacity could tighten, Starks says. However, uncertainty in Washington over potential renegotiations of trade deals with Mexico and Canada could create "stress throughout the supply chain," he says.
"There is potential for some very significant changes coming from tariffs and taxes," Starks says. "After working on creating a North American supply chain over the last 25 years, anything that significantly restricts trade flows between two of our biggest trading partners will create stress throughout the supply chain."
---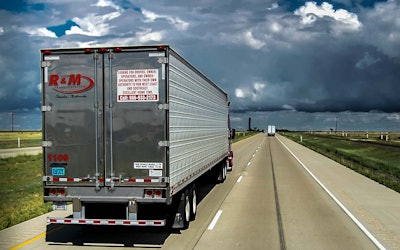 DOT reports freight surge at end of 2016: An increase in truck freight was one of the main drivers for an overall increase in freight movement to close 2016, according to the Department of Transportation's monthly Freight Transportation Services Index. The index covers all modes of freight transportation, including trucking, rail, air, pipeline and maritime.
Freight in December grew 1 percent from November, the DOT reports. Freight in the fourth quarter grew 2.9 percent from the previous quarter and 2.9 percent on the year.